When Studio XYZ produced OVAs, the studio gave away a prize to those who had collected the entirety of an OVA series after they were finished.
If you have all 3 Madou Monogatari OVAs, the prize is a special version of the original Sega Mega Drive port of the first Puyo Puyo game for Sega Mega-CD.
This version of Puyo Puyo features cutscenes animated by Studio XYZ themselves, and voices by the cast of the OVA series:
‡ denotes a character that didn't appear in any of the 3 OVAs.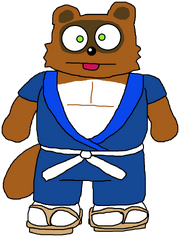 If you have all 3 Zayats: Ōkami Gundan no Sekai Seifuku Keikaku OVAs, the prize is a Pokota plush.
Community content is available under
CC-BY-SA
unless otherwise noted.